Bring your business to the next level with Ready2Pay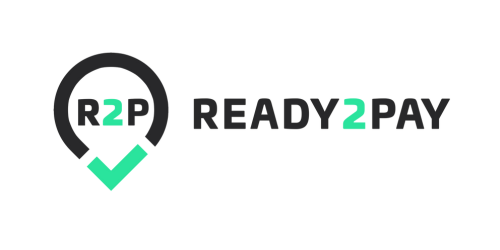 Ready2Wash is expanding its services to introduce an integrated cashless payments solution, empowering your users to seamlessly handle all their payment requirements within the Ready2Pay platform.

With this enhancement, your car wash users can anticipate an unparalleled level of service and support for their cashless payment needs.
Integrated with Ready2Wash
Ready2Pay is completely integrated with Ready2Wash and encompasses a number of advanced solutions such as:
This package offers a straightforward, secure, and modern IT solution, facilitating cashless transactions across all your devices and digital channels. This system equips you with the tools necessary to efficiently manage your business, helping in the adaptation to the evolving digital landscape and enabling strategic adjustments as business needs change over time.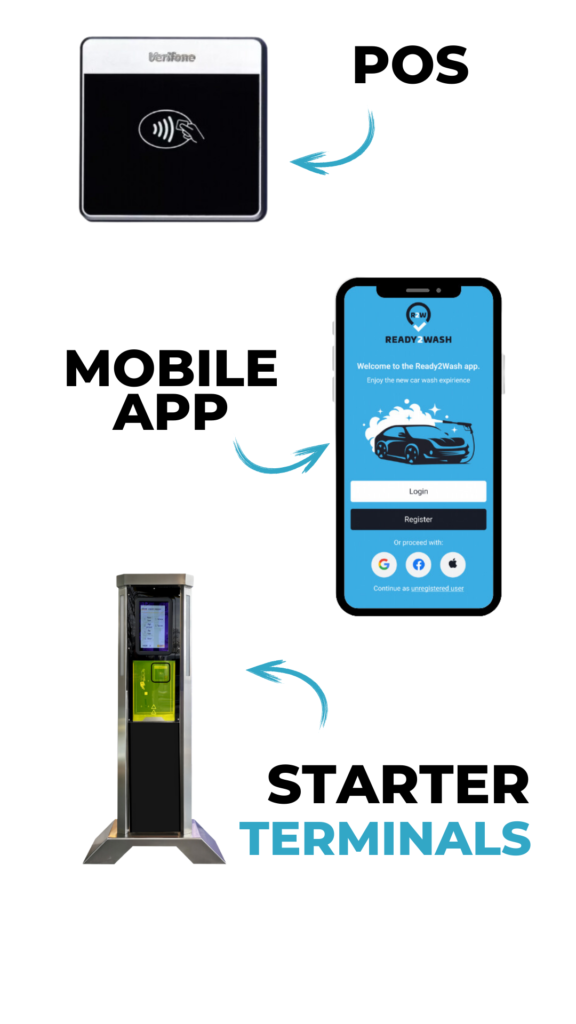 Why choose Ready2Pay?
Cashless Convenience:

Ready2Pay ensures a hassle-free payment experience for your customers.
Security First

: Our system prioritizes security, providing a safe environment for seamless transactions.
Diverse Payment Methods:

Ready2Pay caters to various payment preferences, offering flexibility to your customers.
Competitive Fees

: Enjoy cost-effective transactions with Ready2Pay
Effortless Implementation:

Transitioning to modern payment solutions is easy with Ready2Pay, streamlining the process for your business.
Impressive Growth:

Businesses experienced an average year-on-year increase of 40% in the first month of offering contactless payments

(Source: NAMA 2022)

.
Customer Spending Boost:

Nearly 9 in 10 customers reveal that cashless and flexible payment options prompt them to spend more

(Source: LINNWORKS 2021)

.
Future-Ready:

  300% increase in global contactless transactions is anticipated by 2030

(Source: PwC)

.
What problems does Ready2Pay solve?
Ready2Pay is a comprehensive solution designed to address several key challenges in the evolving landscape of digital transactions. Here's how Ready2Pay solves common problems:
Unified Payment Processing:

Ready2Pay consolidates all your sales and payment processing needs into a single, user-friendly platform. Whether it's e-commerce, in-app purchases, or POS transactions, all payments are received through one channel, simplifying your financial operations.

Real-Time Direct Payments:

As the Ready2Wash mobile app transforms into a Marketplace, car washes transition into direct merchants. This shift enables car wash businesses to receive payments directly to their balance account.

Flexible Payout Options:

Ready2Pay provides flexibility in managing your finances. Car wash operators can choose when they wish to receive their funds with our flexible payout options.

Effortless Onboarding:

Say goodbye to repetitive paperwork. Ready2Pay streamlines the onboarding process with a one-time, hassle-free setup. Submit your documentation once, and you're ready to access a multitude of payment methods, saving you time and effort.
In essence, Ready2Pay transforms the way car wash businesses handle transactions, empowering them to sell services directly to customers through digital channels, receive payments in real time, and manage their finances with ease and flexibility.
More Payment Methods with Ready2Pay
With Ready2Pay, apart from the standard credit/debit cards, Apple Pay and iDeal payments already in use on the Ready2Wash app, we will be enabling a large number of additional payment methods, depending on the country where the business is done.